Year

2018 to 2022

Client

Institutional Investor

Focus

Art Direction
Illustration
Type Design

Credits

Creative director: Ed Johnson
Illustrators: Simone Noronha, Hokyoung Kim, Ben Hickey, Yohey Horishita, Brian Britigan, Xia Gordon, Cornelia Li, Hannah K. Lee, Christy Lundy, Richard Chance, Mel Haasch, Joel Kimmel, Matt Rota, Anson Chan, Jacqueline Tam, Raymond Biesinger, John J. Custer, Grace Zhang, Jeffrey Kam, Sally Deng, Molly Snee, Rose Wong, Melody Newcomb, Sophy Hollington, Tim Peacock, Dalbert Vilarino and so many more...

---
Challenge


How to turn a historic financial publication into a digital-first platform.

Background

Institutional Investor
is a trade publication focused on global finance; specifically around Wall Street and news within the worlds of asset management and private equity. When I was hired as art director in 2018, the magazine became fully digital and rebranded itself into a singular option with a specialized point-of-view, set apart from the likes of Bloomberg Businessweek and WSJ. Our mission was to make illustration one of the cornerstones of a compelling story. The belief was that compelling artwork should pair convincingly with top-notch journalism. The image was only as strong as the headline, and vice-versa.
Implementation
I was tasked with building Institutional Investor's visual language and commissioned over 120 artists from around the world over the course of 4 years. With my background and education in editorial illustration, I built a personal rolodex of diverse and international talent. Because writing around financial topics is often incredibly abstract and difficult to understand, I was in a unique position to bring stories to life through metaphorical illustration. Encouraging my artists to push the boundaries of metaphor and representation helped separate Institutional Investor from the rest of the pack.
Results

Readership grew by 42% from the period between September 2018 to February 2022 and I was promoted to the role of Creative Director in October 2022. Overseeing one other art director and establishing a close-knit relationship with my team of journalists and editors, I was assist in a digital transformation for the brand.
---

Case study with illustrator Hokyoung Kim




Hed: Bill Ackman Sent a Text to the CEO of Mastercard. What Happened Next Is a Parable for ESG

I commissioned New York-based illustrator Hokyoung Kim to illustrate the complex collision between the hedge fund industry and one of the most popular porn websites, PornHub. After a damning exposé was published in The New York Times last December, Bill Ackman, a highly prominent fund manager became enraged that major credit card companies were behind all payment processing for the website. His ensuing actions, along with the work of other litigators and lawmakers, revealed a web of shady financiers and investors who profited off PornHub's success. The challenge was how to convey both the sensitive nature of online sexual abuse and the shadowy financial network, in tandem. I believed that this was predominantly an exercise in tone, and Hokyoung very much succeeded.



---

Case study with illustrator Brian Britigan



Hed: An Oral History of Coming Out on Wall Street. How times have—and haven't—changed

In recognition of WorldPride, our team documented the history of the queer community in finance and wealth management, starting from the 1980s onwards. We featured 8 interviews from various figures in the industry, with a particular focus around the "corporatization" of being queer. After putting out a call for portfolios on Twitter, I discovered Brian's work and entrusted him to communicate the tension in the piece. The tweet garnered over 100 submissions, and allowed me to directly engage with other queer artists who I could commission work from in the future..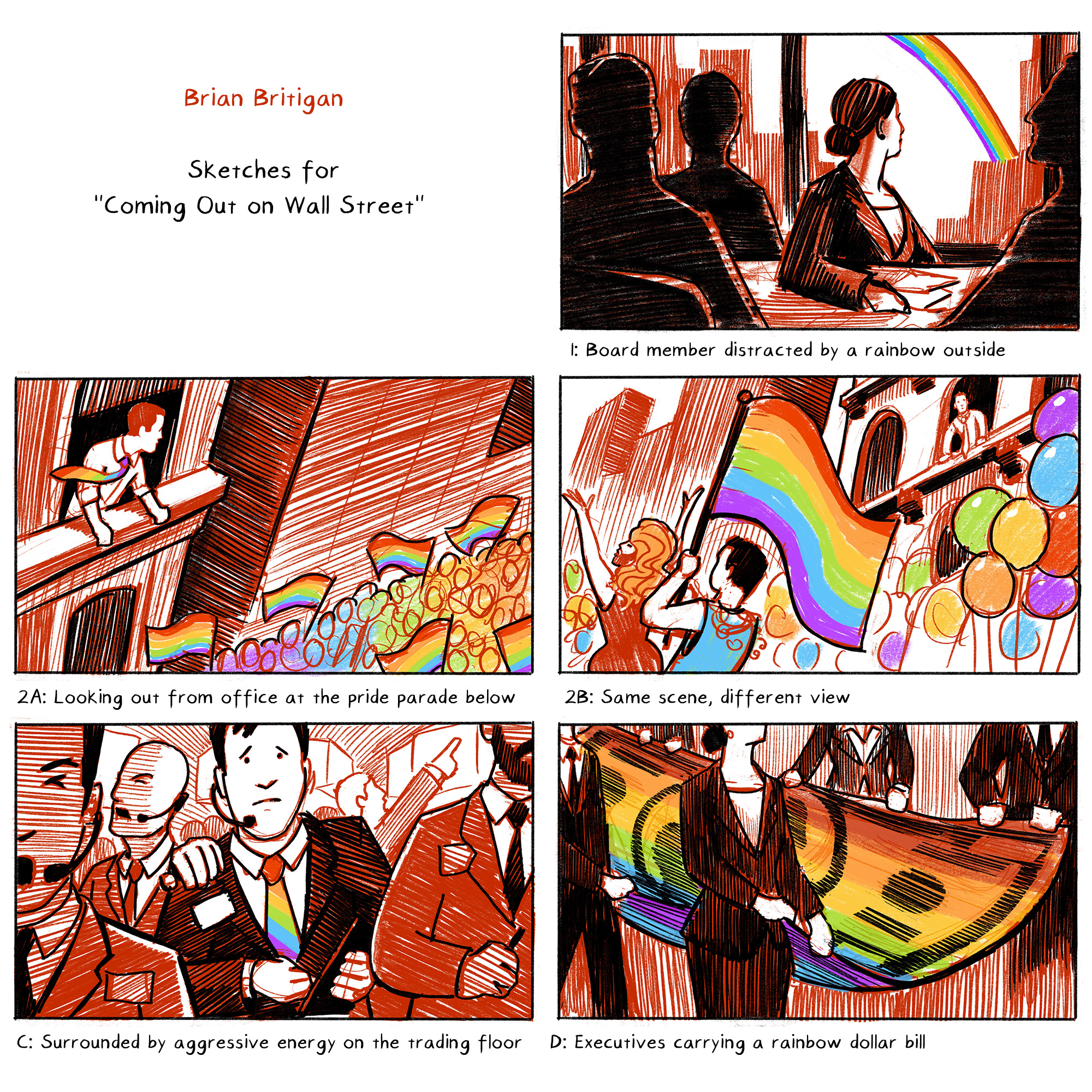 ---

Selected illustrations commissioned between 2018 and 2022